16 Jul 2022
Summer Dig - Day 7
---

Today marked the end of our first week's digging in Forty Hall and the halfway point of this year's summer dig on the site of Elsyng Tudor palace, as well as the first of our two public open days, as our hunt for the palace's inner gatehouse has taken, in an almost literal sense, an interesting turn.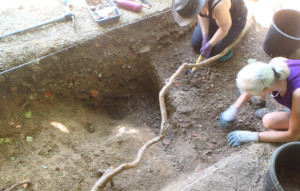 For most of the week we have been working to define the profile of a substantial rubble-filled cut feature which by yesterday we had begun to hypothesise may be the moat which we know from contemporary Tudor documents fronted the gatehouse.
In trench 1 today we continued to remove the rubble-rich deposit and to define the steeply sloping cut at the trench's eastern end. As we have excavated this context it has become clear that the cut and its fill are essentially identical to the substantial rubble-filled cut that we excavated very nearby in last year's trench 2, albeit on a perpendicular alignment.
Our current working theory is, then, that last year's cut and this year's are the same feature, meaning that it must curve by about 90 degrees between this year's trench 1 and last year's trench 2, just a few metres away.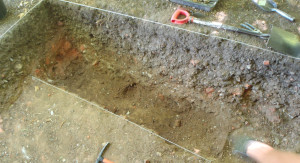 There's still not enough evidence to be sure of this though, and we are still working hard in trench 3, located several metres to the west of trench 1, to remove the rubble deposit, which so far shows no sign of the possible moat's far side.
In trench 2 we have basically the same story - work is continuing to remove the rubble deposit and to define its base in the hope that we can find one side of the 'moat' cut, but the rubble fill and its base are so irregular that it is a slow-going task, especially in the extreme heat which not only fatigues diggers but bakes brickearth completely solid.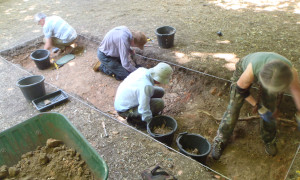 Our public open day went very well though, and was well attended, and although we don't have any spectacular Tudor structures to show people as we have in previous years, we were still able to capture the imagination with the story of the palace gatehouse and what is currently looking to be the very substantial moat that protected it.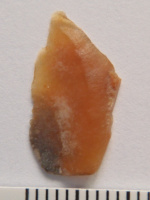 The story of the site didn't begin with the palace, however, as we are occasionally reminded in Forty Hall when we find evidence of human activity pre-dating Henry VIII by more than 5,000 years.
Today's tiny but perfectly formed reminder came in the form of a 'microlith' - a type of very small flint blade that characterised the Mesolithic period and were used for a variety of purposes including projectile tips and also set in rows into the sides of weapons and tools to make serrated cutting edges.
We'll be back in Forty Hall tomorrow for our second public open day, and will get as much work done as possible, but due to the severe temperatures forecast we will not be on site for either Monday or Tuesday.
Hopefully this will still leave us just enough time to wrap up work in the three trenches we have open but will probably preclude any other digging that we might have done to find out more about our possible moat, had the weather been more favourable.