10 Jul 2022
Summer Dig - Day 1
---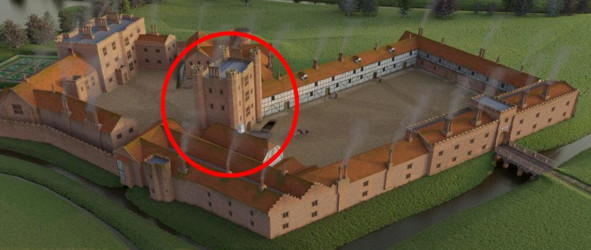 We returned to the lime tree avenue of Forty Hall today to begin our 16th year of digging on the site of Elsyng Tudor Palace.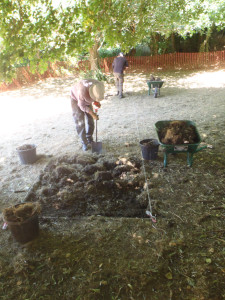 This year's dig is a continuation of the hunt we began last year for the palace's inner gatehouse.
Last year we opened a trench roughly adjacent to the barn building which forms the southern edge of the palace's outer courtyard - we have spent several years investigating the barn and features next to it including rooms which once formed part of the palace kichen complex, and a complete furnace belonging to the boiling house.
We know from 16th century documentary evidence that the "Long Barn", as it was known, was located in the outer courtyard and was immediately next to the inner gatehouse - a large imposing structure of four storeys which separated the outer court, where most of the palace servants would have lived and worked, and the inner court, which contained the more high-status buildings of the palace such as the Great Hall and of course the royal apartments.
Although last year's trench did not conclusively locate the gatehouse, it did disclose the edge of a very large rubble-filled cut, which could well be a demolition cut intended to fell a large, potentially tall, building.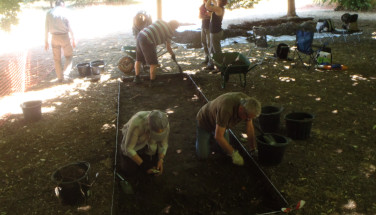 This year we are therefore opening two trenches: Trench 2 is located a few metres north of last year's trench, and will hopefully uncover more of the possible demolition cut, or any surviving structure connected with it.
Meanwhile, Trench 1 has been located slightly to the south of last year's trench and will run to the west of the lime tree avenue, to investigate a nearby magnetometry anomaly, which, if indicative of buried archaeology (especially a wall line) - may be in line with and related to the demolition cut.
Today was mostly spent setting up the site, laying out the trenches and removing topsoil, so there's no archaeology to report yet. Tomorrow we should be able to get down onto our first proper context, although if forecasts are right it could be hot work.
This year's work is kindly sponsored by the Stories of Enfield project; a collaboration with Enfield Council and the National Lottery Heritage Fund, which as well as funding the dig, has also paid (with the help of the Enfield Society) for the publication of our latest book; "Monarchs, Courtiers and Technocrats; Elsyng Palace, Enfield: Place and People" - a complete publication of all our work on the site since 2004, plus an extensive evaluation of all the available documentary evidence for the history and development of the palace. See our publications page if you haven't already got your copy!