02 Sep 2021
Forty Hall Summer Dig - Day 11
---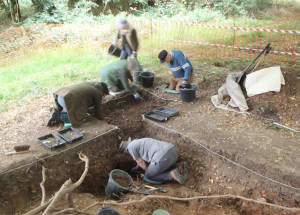 A great day's digging in Forty Hall today, as we approach the end of our two-week hunt for the inner gatehouse of Elsyng Palace.
Over the past few days we've been busily removing a sloping rubble context at the west end of trench two, and the further north and west we trace it, the thicker and deeper it seems to run.
We're now very confident the rubble is filling a substantial linear cut, and although we may not necessarily have identified the exact location of a wall, we have definitely confirmed the existence of a previously unexplored structure very close by.
This morning, after a brief but exciting detour to free a young muntjac deer that had become entangled in a fence, we opened a small extension to this end of the trench (as large as we think we can dig and record in two days), which will either find the far side of the cut, or expose more of it as it thickens and deepens to the north.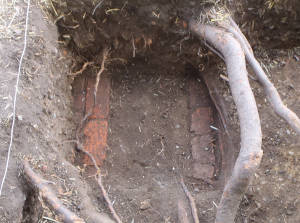 Meanwhile, in the 1.5 metre square trench we opened yesterday near trench one, we finally found the continuation of the brick water conduit that had not shown up earlier in the week in any other of the predicted positions.
This proves that the conduit does run in a straight line, and does not turn or feed into any features associated with any gatehouse or moat to its north. The channel's absence from from trench one was indeed due to extensive truncation due to centuries of successive tree planting in the lime avenue.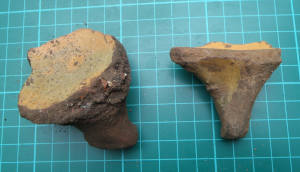 The only major job left to do in this trench is to excavate the fill of the channel, which we'll do tomorrow.
Trench two continued to produce a varied and steady mixture of finds. The far end of the extended trench has produced a notable number of pipkin fragments - these were cooking pots with three tripod feet and typically a hollow ceramic handle into which a wooden extension was fitted for handling when hot.
We've found so many similar fragments of one type of fabric that we think we should be able to reconstruct a sizeable portion of it after the dig.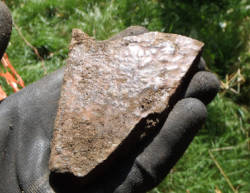 Another unusual find that came from trench two late in the day was a drip glazed roof tile - something that we've never seen before at Elsyng. Glazed roof tiles are something that you would not expect on a Tudor building, but was a medieval tradition, so this together with the couple of medieval pottery fragments may together begin to hint at some older archaeology not far away.
If this is the case it will probably have to wait for another year, as we've almost completed most of this years' work. We're aiming to be done and at least mostly backfilled by Saturday afternoon.