26 Jul 2019
Forty Hall Summer Dig - Day 11
---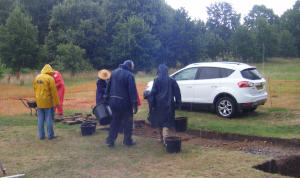 Not much to report today; heavy rain and thunderstorms all morning and most of the early afternoon made it impossible to do anything much other than take shelter beneath the park's lime trees and savour the cooler temperatures.
We spent most of the dry periods backfilling trench 1, which is now finished and returfed, and part of trench 2, leaving the walls of the barn and associated structural features visible for members of the public on tomorrow's viewing day.
We also managed to get some important drawing and surveying work done, hopefully meaning there won't be much to do tomorrow, since the weather forecast is even worse.
Because of the weather we weren't able to work on trench 3, and if the heavens open again tomorrow, we may backfill it to return to next year.