19 Jul 2019
Forty Hall Summer Dig - Day 4
---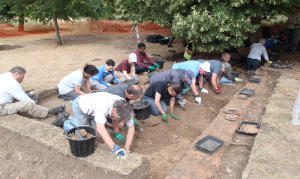 Day four of our summer dig in Forty Hall was not the washout we had half feared - despite a short spell of heavy rain which stopped work briefly just before lunchtime, we managed to get in a fair amount of digging and revealed some interesting archaeology, particularly at the west end of trench 2.
Trench 1, which we had opened hoping to find evidence of the continuation of last year's boiling house wall or an associated palace boundary wall, has so far produced no evidence at all for either, and since we were intending to finish early today, the trench was put on hold and work was diverted onto trench two, into removing the extensive rubble layer in front of the south facade of the palace barn which we uncovered at the beggining of the week.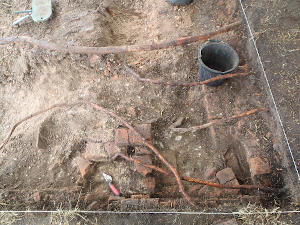 Late yesterday we finally began to find evidence of other structural features against the exterior wall of the barn, at the far western end of trench 2. The features are very disturbed and until excavation is complete, interpretation will be difficult, but at the moment it looks like there may be a column or pier base (or possibly a buttress) set on the remains of a brick floor, with possibly the beginnings of another brick base running into the trench's west section.
Slightly to the south of this is a deep rubble filled cut which we are in the process of defining. It's not clear yet how far east the cut extends or how deep it is, but it does look substantial and raises the question of why it was made - potentially to demolish and remove a significant feature.
We will undoubtedly want to see more of the brick floor and potential second brick feature and so at some point will almost certainly extend trench 2 further west, but tomorrow's forecast looks to be extremely wet so we may not get much if any work done tomorrow.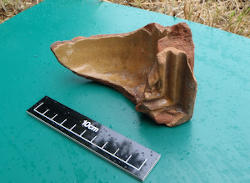 Although the vast majority of material being removed from trench 2 at the moment is rubble - almost exclusivley roof tile for much of the trench and large brick fragments from the cut at the west end - there have been some interesting finds scattered amongst it. The most puzzling find of the dig so far came from the cut today - it is a large fragment of a ceramic vessel, ostensibly semi-circular in cross section with the remains of one flat, perhaps square side, which looks as if it was pierced with at least one round hole. Its interior and the flat side has yellow glaze but the rest of the exterior is unglazed and quite plain.
Our best guess at the moment is that it is a form of chafing dish, with the interior intended to hold hot coals to keep a dish resting on top warm, although there is no obvious sign of soot discoloration or heating damage.