17 Jul 2019
Forty Hall Summer Dig - Day 2
---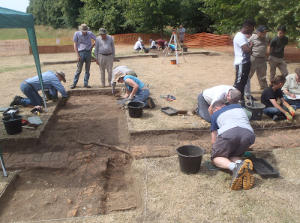 Today we opened an extension to trench 2, which yesterday revealed a long stretch of the 'Long Barn' - a building which forms part of the south side of the outer Tudor palace courtyard, and we have seen parts of over several years.
Late yesterday we found the south eastern corner of the barn, where it joins a southern perimiter wall (see fig below) and we noted that the east end wall of the barn looked as if it might continue south, perhaps indicating a building built against the barn, much like the boiling house we excavated last year, at the barn's opposite end.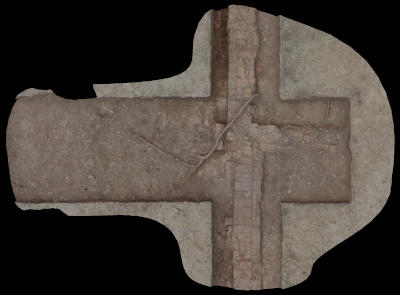 After removing topsoil and a thin layer of demolition rubble, however, this does not appear to be the case - there is no evidence of the conjectured wall meaning that the projection on the corner of the barn is probably just to strengthen it (and the effect is exagerated by the fact that the bricks have been pushed further out by tree roots).
We also began removing the rubble up against the south side of the barn wall to look for any other evidence of structures or partition walls adjoining it - so far the evidence looks conclusively negative.
Meanwhile in trench 1, our efforts to find evidence of either a continuation of the boiling house exterior wall or an associated perimeter wall have also so far drawn a blank, although late in the day we did relocate the substantial demolition cut we recorded last year, which removed a large chunk of the east end of the building.
Tomorrow we'll probably investigate the demolition cut further to see if we can find any trace of the perimeter walls. Trench 2 will probably also be extended to look for any more clues to buildings against the barn wall, and perhaps also to look for evidence of interior floors against either side of the barn wall.
You can explore the state of the barn wall junction at the end of day 2 in the interactive model below: