16 Jul 2019
Forty Hall Summer Dig - Day 1
---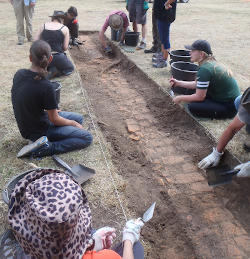 Today was the first day of our annual two-week dig in Forty Hall, on the former site of Henry VIII's Elsyng Palace.
Last year's dig uncovered a substantial remnant of the palace 'boiling house' and associated brick floors, south facade wall and a complete furnace once used to boil large joints of meat for the Royal table. We also looked at the area where the boiling house met the west end of an adjacent building we first excavated several years ago and have since identified from documentary records as being 'The Long Barn' -- a storage barn which occupied most of the south side of the palace's outer courtyard.
We opened trench 1 today beggining from last year's boiling house trench and extending east to see if we could find a continuation of the building's exterior wall in that direction.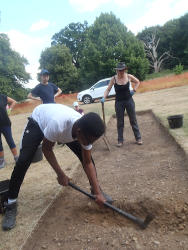 Unfortunately the trench quickly revealed nothing but an extensive pebble surface, with no sign of the ubiquitous demolition rubble layer that almost always covers palace remains. Late in the day we began laying out a trench extension to the south to see whether the wall may have made a dog leg in that direction, but it may be that last year's trench was not far from the end of the building.
Meanwhile trench 2 was unsurprisingly more productive: This was laid out on the line of the barn wall which runs paralell with the boiling house, and we have seen several stretches of this wall before.
The aim of trench 2 is to see whether there may have been more structures built up against the barn to the east of the boiling house, and also potentially to investigate more of the barn's interior, which so far we have not seen very much of. We uncoveerd a 13 metre stretch of the wall today, and have re-located the junction at its east end where the barn ends and the boundary wall of the courtyard continues. We found tentative signs of a wall projecting from the barn which may be early evidence of another adjacent building like the boiling house at this point - tomorrow another trench extension to enlarge this area will hopefully find out.