24 Feb 2019
2019 Dig Dates
---
We will be returning to Forty Hall this summer from the 16th to 28th of July to continue our investigation of Henry VIII's Elsyng Palace.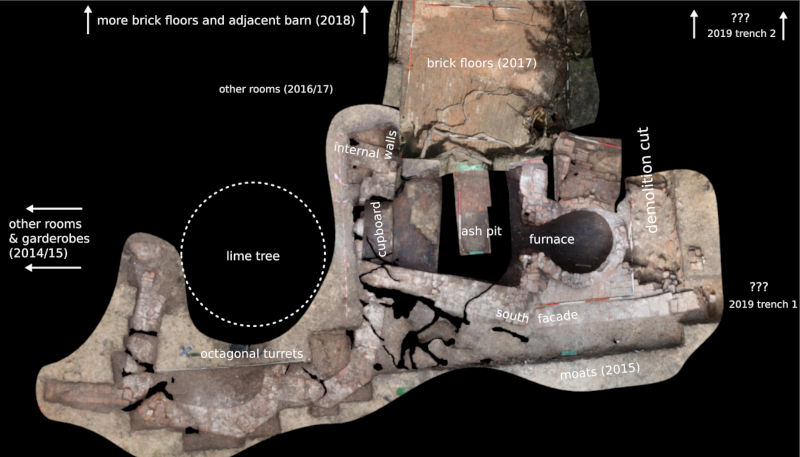 We've spent the last couple of years investigating an area between the south side of the palace's outer court and what we now know to be part of the extensive complex of service ranges belonging to the palace kitchens.
Last year's star feature was a complete Tudor furnace belonging to what we believe to be the palace 'boiling house' - a department within the kitchens responsible for boiling large joints of meat in preparation for roasting and other uses including pie-making.
The furnace and associated multi-phase brick floors also played a starring role in Channel 5's "Digging Up Britain's Past", in which Alex Langlands helped us to excavate the remains of the ash deposit left behind after the furnace's last firing, probably some time in the early 17th century.
Earlier in the year we also continued to explore a building adjacent to the boiling house which defines the south side of the outer courtyard. Documentary and archaeological evidence suggests this is the 'Long Barn' -- most likely a storage barn serving the kitchen block and possibly connected to a small stable at its east end.
The main outstanding question from last year's dig is how far east the boiling house extends, alongside the barn. We found that part of the brick floors and the southern facade wall of the boiling house were truncated by a large demolition cut and so were unable to define the building's eastern limit -- this will be the main aim of this year's dig.
The first trench (see diagram) will look for the east side of the demolition cut and a continuation of the boiling house's southern facade wall (and hopefully more of the interior of the building), while the second trench (a few metres to the north of the diagram) will pick up the edge of the barn where it meets the boiling house, and similarly follow it east. The second trench will also hopefully tell us more about the barn and hopefully give us a chance to see some of its interior in more detail.
If you would like to dig with us, you must be a member of the Society and over the age of 16. See here for details on joining. Please bear in mind the number of places may be limited, so the sooner you join the better.
Alternatively, the Saturday of the 27th will be a public open day with exhibits explaining our work and members of the Society will be on hand to answer your questions.
You can interactively explore some of last years work at sketchfab.