13 Jul 2016
Forty Hall Summer Dig - Day 2
---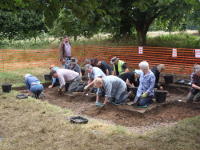 We made great progress today on the second day of our week-long exploration of Henry VIII's long-lost palace of Elsyng.
Yesterday we had removed most of the topsoil covering the demolition layer representing the final phase of the palace's destruction in the mid-seventeenth century, and had just begun to see traces of deliberately laid roofing tiles, which looked like they may have been the base of a timber frame possibly for dividing walls inside our target building.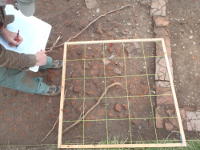 After tidying up yesterday's work (slightly smudged by torrential rain overnight -- luckily we avoided the worst of it today) we began the painstaking process of recording the rubble before starting to remove it to see what lies beneath.
The tile construction we found yesterday seems to consist of one part made from at least one course of bricks capped with tiles, while the other seems to be purely courses of (at least two layers) of tiles. We still haven't seen enough of this feature to be sure if it is an internal dividing wall and it may become necessary later in the week to extend the trench slightly to follow these wall lines to find out more about them as well as the outline of our building.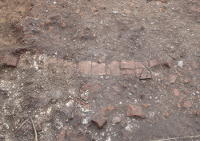 Meanwhile, a second line of tiles has appeared about midway along the trench, paralell with the first feature and separated by about two metres. So far we've only seen the top of the tiles so we can't compare their construction with the first feature but it looks very similar and may well be the base of another timber framed internal wall, which may mean we have a series of fairly small rooms inside the building.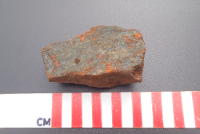 There have been a few fragments of pottery found in amongst the demolition rubble, but interestingly we have begun to find fragments of glazed floor tiles -- our first clue as to the status of the building we're looking at. So far in this trench and last years we have turned up fragments of floor tile in green, black, yellow and brown. Whether these would have been laid in alternating patterns or larger blocks of colour it's impossible to say -- but these do point to slightly higher status floors than we have found elsewhere on site, which have been tended to be just plain brick.
Tomorrow we will hopefully get through the rubble layer and make some progress to revealing the original floor surfaces -- or at least what's left of them after the 17th century salvage crew got at them. At the same time we'll aim to expose more of the walls and get a better idea of their construction and purpose.