10 Jul 2016
Cedars Park Summer Dig - Day 3
---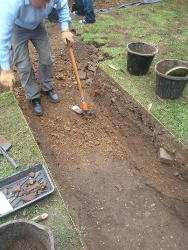 Archaeologists often like to talk about the value of "negative evidence" -- a phrase that can strike dread into the hearts of weary diggers, since it's usually a sign that the trench is failing to produce any interesting results whatsoever.
Sadly, this year's trench in Cedars Park was perhaps the perfect example, after early in the day the deposit we had hoped yesterday was the 17th century landscaping surrounding the palace loggia produced a number of decidedly 20th century finds.
It quickly became clear that all of the deposits throughout the trench, including our small extension were dumps of soil associated with the nearby quarrying in the 1970s; meaning no in-situ archaeology has survived in this area at all.
"Negative" evidence is, however, still evidence and the fact that the landscaping around the quarry was much more extensive than we realised is important to know -- any future ground work in the area will know to keep well clear of this disturbance.
It now looks likely that any remnant of the apsidal end of the loggia has been lost with the quarrying, and we may now never know how or why it was built -- a slightly anticlimactic end to the dig, especially after the successes of the last two years but work definately worth doing.
We are very grateful for the patience of our diggers, especillay our first-timers who soldiered on rain or shine -- we can promise better things to come next week, as we move on to Forty Hall to the site of Henry VIII's Elsyng Palace, where we can confidently guarantee only the most positive evidence as we will be returning to the site of the palace building we've been uncovering for the last few years (no quarries here!)