09 Jul 2016
Cedars Park Summer Dig - Day 2
---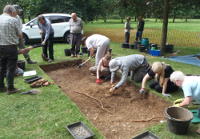 A slightly disappointing day's digging today, as we removed yesterday's promising looking rubble to find it was the product of 20th century landscaping and other extensive disturbance to the area we're digging in.
We weren't entrirely surprised, though, as we know there was a quarry very nearby which involved considerable landscaping by heavy machinery in the 1970s, which we have discovered in the form of a thick compacted layer of brickearth and 20th century rubbish covering probably all of the area immediately around the trench.
All is not lost though, as under the thick 20th century deposit we eventually revealed a brickearth layer containing large fragments of probably 17th century bricks -- this is very likely the same deposit we found last year which represents the landscaping work carried out around the palace loggia and canal.
Tomorrow we'll reveal more of this deposit and hope to find evidence of the loggia structure. The trench will also be extended by a metre or so, although it's now clear that there's very little ground left in this area that hasn't been disturbed in the 19th or 20th centuries -- hopefully the weather won't get in the way!