08 Jul 2016
Cedars Park Summer Dig - Day 1
---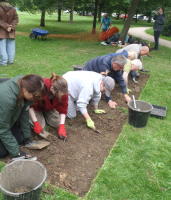 A decent start to this year's summer digs in Cedar's Park, as we continue to explore the remains of the celebrated ornamental gardens that once belonged to James I's Theobald's Palace.
Last year we continued to trace the line of a wall that once formed the side of what we think was a garden 'loggia' - an open-sided structure with a colonnade that would have been used by the king and courtiers for outdoor entertainments.
This year we're looking for evidence of the apsidal projection which appears on a map of the palace dated 1611 (see previous blogs for more) . - this feature does not show on earlier maps so if possible we'd like to get an idea of when it was added and what it was for.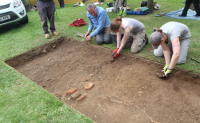 This year's trench is located where we think the apse should have begun to diverge from the main wall, although this is partly guesswork because the 17th century maps we have to work from are not to scale.
Despite this, after removing turf and topsoil there is already a very tentative line of brick rubble in the exact spot the wall should be -- whether or not this resolves into any in-situ structure we will see tomorrrow!