14 Mar 2015
Summer Dig Dates
---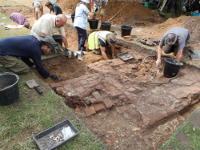 This year's summer dig dates have been finalized: We will be digging at Cedars Park, Broxbourne, on the former site of James I's Theobalds Palace on the 10th 11th and 12th July and the following week in Forty Hall, Enfield, on the former site of the Tudor palace of Elsyng from the 14th to 19th.
The dig in Cedars park will be further exploring the palace 'loggia' garden feature we successfully uncovered last year, to further establish its size and date, and also to get a better look at the ornamental 'canal' that bounded it.
The dig in Forty Hall will continue to look at the new (possibly early Tudor) palace building we discovered last summer, and hopefully continue to follow the palace boundary wall west of the lime tree avenue, further defining the perimeter of the palace complex.
As ever, the digs will take place as part of the nationwide Festival of Archaeology, and members of the public will be welcome to come and see how we get on -- each Sunday there will be stalls and other activities and members of the Society will be available to explain our work.
Members of the Society wanting to join the digs should preferably bring a packed lunch, and are reminded that stout footwear and sensible clothing are essential. Details of times and meeting places will be published later in the year.