20 Dec 2014
2015 Lecture Programme and News Update
---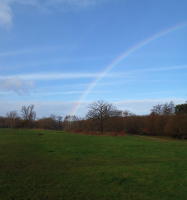 The 2015 lecture programme has been published and can be seen here.
Although we've been very busy since the summer digs, there's not been much to write about -- The Heritage Lottery Funded works in the park and grounds in Forty Hall are now mostly complete, and we have monitored and recorded a variety of trenches and post-holes, which have provided snippets of useful information but nothing really very newsworthy.
One of the more interesting jobs we monitored was the installation of a new footbridge across Maidens Brook, at the north end of the lime tree avenue. This involved partially restoring some nineteenth century brickwork which in turn is built on top of the remains of an earlier water-stair and sluice arrangement which once formed part of the complex water feature network and landscaping scheme in the park, probably built by the Hall's owner, Eliab Breton, in the eighteenth century.
The work to renew the brickwork revealed a widespread deposit including brick and mortar fragments, but most predominantly animal bones, which we have encountered before during the 'Greenway' cycle track work. Dating evidence shows that this is most likey a palace era midden (rubbish tip) -- and since it is a reasonable distance from the palace complex we had originally thought that the material must have been redeposited, perhaps when the eighteenth century landscaping work was carried out.
Now that we have seen more of it, it seems more likely the midden is in fact in-situ. We will have an opportunity to see more soon, as a new fence is due to be installed near the bridge -- we will take the opportunity to open some archeological trenches and investigate the deposit formally, probably in early January.
The site is marked in the above photo by the end of the rainbow -- we hope that this is an auspicious sign!