17 Jul 2014
Festival Of Archaeology 2014 - Forty Hall - Day 3
---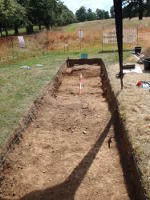 Despite the oppressive heat today (the hottest of the year so far), we managed some decent progress in trench one -- looking now like the only trench we will open this year.
Yesterday's disturbance at the south end of the trench eventually resolved into a linear feature, much as we had expected on day one, but not, as we had hoped, a wall.
The linear magnetic feature now seems to be a broad, very shallow ditch filled with large amounts of palace rubble. While this explains the magnetic signal, it does not explain the origin of the rubble, and the existence of a long shallow ditch bordering one side of the palace is at the moment difficult to explain convincingly.
Our working hypothesis is that the ditch represents a (?largely symbolic) boundary line demarking the edge of the palace precinct, conceivably containing water (though no silt was obviously present in the trench), and subsequently backfilled with rubble upon the palace's demolition in c.1660.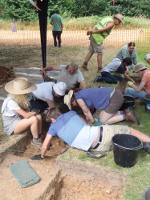 Meanwhile, most of our diggers took refuge from the sun under a gazebo at the north end of the trench, where a second extension was opened across the remainder of the topographic depression.
While this feature has not yet been fully resolved, the absence of the wall at the south end of the trench has caused a change in strategy. Though we haven't found a wall yet, the huge amounts of building rubble must have derived from palace structures reasonably nearby, and so we are now beginning to work our way north into the palace complex, in the expectation that we must sooner or later encounter a structure to explain the rubble.
Exactly how far we have to go and how deep is yet to be seen, and tomorrow may well see yet another extension north. We are only halfway through the dig and if our previous experience at Elsyng is anything to go by, the last minute surprises are yet to come!