15 Jul 2014
Festival Of Archaeology 2014 - Forty Hall - Day 1
---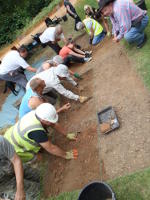 After a day off to recover from our successes at Cedars Park, this year's investigation of Elsyng Palace kicked off today in blazing sunshine.
This year marks the tenth anniversary of our renewed excavation and research programme in Forty Hall, and it will be the first time in nearly fifty years that we have worked west of the lime tree avenue.
Our target this year is a combined geophysical and topographic feature which runs from within the lime avenue out west towards the inner palace complex. The feature is comprised of a linear magnetic anomaly strongly suggestive of a wall, running parallel with a long shallow ditch-like depression, identified and mapped by LiDAR.
Trench one was opened today to sample both features, and while a significant dump of palace rubble was disclosed at one end -- certainly enough to cause a large magnetic signal -- it is not clear yet if this corresponds to our linear 'wall' feature or if it is a discrete dump within something like a tree throw. Meanwhile, at the 'ditch' end, there is as yet no clear ditch like feature except in the ground topography.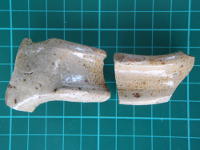 It is still early days, and we will hopefully get a clearer picture tomorrow. Meanwhile, there were a few interesting finds apart from the copious rubble, including two joining handle fragments from a large stoneware jug (pictured) and a few fragments of plain green-glazed floor tiles. Such tiles would have belonged to the floors of moderately high status palace rooms, and although we have found many fragments over the years, we have yet to find any in-situ. Surely the rooms these tiles belonged to can't be far away!
As on Friday, watch this space!