11 Jul 2014
Festival of Archaeology 2014, Cedars Park, Day 0
---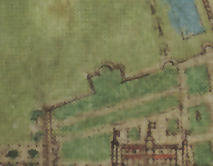 A wet morning at Cedars Park didn't dampen the spirits of EAS diggers as preparations for this year's Festival of Archaeology began.
This year's dig at the site of James I's Theobalds Palace is in search of a largely undocumented garden feature set in the wall of the palace grounds. The feature (pictured) is an apparently large enclosure projecting from the west wall of the palace gardens. Although the feature appears in several early maps, including in some (such as the one pictured) an apsidal end, there are no written descriptions or clues as to the feature's purpose. It is presumed to represent some sort of grand ornamental feature such as a loggia.
Although the garden wall itself still exists, it has been repaired and rebuilt many times over the last four centuries, and the projecting feature has long since disappeared.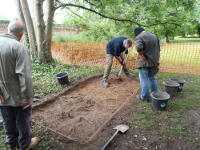 Trench one was set out today in a position we hope will correspond to the northern edge of the feature. At this stage of the dig we are relying largely on educated guesswork -- it is very hard to accurately judge dimensions on seventeenth century maps and so we have located the trench partly to match the map and partly to coincide with a patch of the standing wall that appears to have been heavily modified -- hopefully a sign that this is the part of the wall that was filled in after the 'loggia' feature was demolished.
Today's work was mostly limited to removing topsoil and a very compacted modern gravel dump, under which signs are already beggining to emerge of a layer of rubble.
Tomorrow will tell whether this has anything to do with our intended target -- watch this space!