19 Jun 2014
Mystery in the Churchyard
---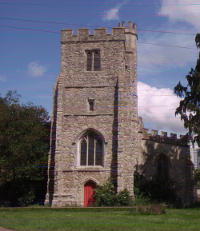 An unusual and intriguing mystery has arisen in the cemetery of All Saint's Church, Edmonton, which the EAS has been asked to help with.
Following the spell of very wet weather early in the year, a small patch of ground in the churchyard subsided revealing brickwork and a void leading to what appeared to be part of a brick lined chamber.
The subsided ground is free from grave markers of any kind and so after making the site safe, Enfield Council and the Church asked the EAS to advise on identifying the date and function of the structure, and in early June a site visit by EAS members confirmed it unsurprisingly to be a burial vault.
The collapsed section of ground seems to correspond to the entrance passage which would have led to the chamber itself, which as far as we could see is still intact and contains at least three coffins.
The unstable ground and a wish to avoid disturbing any in-situ burials made it difficult to inspect the chamber in detail, but by lowering in a camera, it was clear that the coffins and brickwork date from the mid eighteenth century.
Although all three visible coffins bore name-plates, only one was legible. The occupant of this coffin's name was James (sadly his surname was illegible) and he died on May 8th 1772. This is in itself interesting, since all the adjacent burials date from around 50-100 years later.
The following week, we undertook a measured survey of the vault's location within the churchyard, and overlaid this on a plan of plot numbers compiled in the 1960s, retrieved for us with the generous help of the Enfield Local Studies Library.
Unfortunately this only confirmed that the vault is unmarked and unrecorded, although the Local Studies Library was able to find James' death recorded in the parish registers, revealing his surname to be Clark.
It is unusual for a tomb of this size and date to be unmarked -- many similar tombs in the churchyard have sizeable and elaborate monuments to mark them. How the Clark family tomb came to be lost and forgotten is, at the moment a mystery, as is the identity of the other two occupants sharing James' final resting place.
We will of course keep you posted on any developments!