21 Jul 2013
Forty Hall - Festival Of Archaeology - Day 5
---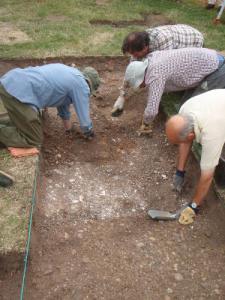 The surprises kept coming today on the penultimate day of the dig. The milder weather was a welcome relief and allowed us to push on with some of the more strenuous work, opening a large trench in the south area of the 'barn'. So far there is no sign of any more circular brick features at this end of the building, but we will finish investigating this properly tomorrow.
Meanwhile, we went in search of a wall line that, according to the L shaped barn theory, should have met the east/west wall that we decided yesterday was probably on top of an old palace wall line. As we chased the ex-palace wall line east, there was no sign of any north/south turn or junction and so today we went back to the last known position of the north/south wall and began to follow it south towards the ex-palace wall.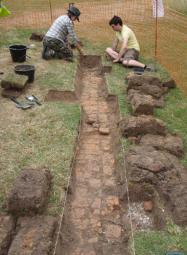 Before long this wall turned west, even showing signs at one point of a door threshold, and immediately threw the whole L shaped barn theory up in the air. It now looks very much like we are dealing with not one but two buildings, which just happen to share one wall alignment (or perhaps share one perimeter wall).
This would explain the differences between the function and layout of the two areas – the northernmost building was probably a barn but the southernmost, which contains the black layer we dug yesterday and the mysterious circular brick features had some separate (but probably related) function.
With one day left there are perhaps more questions than ever to answer, and with the weather forecast to return to the high twenties tomorrow we will have our work cut out to answer them all.