15 Jul 2013
Festival Of Archaeology 2013, Cedars Park - Day 3
---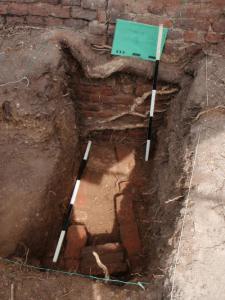 Despite the limitations imposed and the extreme weather, day 3 saw positive archaeological results in both trenches.
In trench 1 this was in the form of a brick built water culvert at the south end of the trench. The culvert was truncated by the Privy Garden wall, giving the impression that it must predate the establishment of the Privy Garden by James I. However, careful analysis of various repairs and elements of rebuilding in this wall, noted and recorded by the team,may yet tell a different story.
The south end of trench 2 revealed more of the a brick built bay feature butted to the original wall and is now thought to be of Georgian origin. The function of the bay remains somewhat obscure although it could have supported a garden seat in the opening beneath which it is situated.
To the north of this bay, a 19thC. Gravel path edged with flint nodules was revealed. Beneath the path, the removal of a thin layer of brick debris revealed another section of brick built water culvert.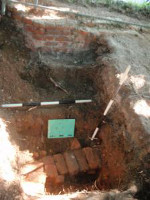 Entering the trench from the west, the culvert ran parallel to the wall before turning approximately 45 degrees to the north east. The internal angle formed by this turn was occupied by a brick surface.
The stratigraphy and brick typology give the initial impression that this feature belongs to the tenure of Theobalds by the Cecil family and predates the creation of the Privy garden by James 1.
Since virtually nothing is known about the use of this area by the Cecils, this is an interesting and important discovery.
For more on the history of Theobalds Palace, see http://www.cedarspark.info