12 Jul 2013
Festival Of Archaeology 2013, Cedars Park - Day 1
---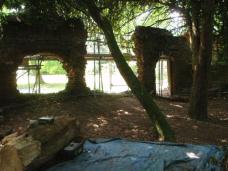 Things got off to a bit of a shaky start today, on the first day of the EAS summer digs at Cedars Park, Broxbourne.
This year will be the first time that we have worked inside the Scheduled Ancient Monument on the site of Theobalds Palace, and we have been asked by Broxbourne council to open three trenches to investigate the history of a sixteenth century perimeter wall, enclosing what was part of the palace privy gardens.
Part of the Heritage Lottery funded work being carried out in the park involves the (long overdue) repair and reconstruction of elements of this wall, which has suffered badly from exposure to the elements and vandalism in recent years (pictured).
Unfortunately, this work has affected two of the three areas we had been asked to investigate, and has made them inaccessible to us and the public.
We have laid out one trench today, and we hope to gain access to lay out a second tomorrow, but the restricted access to the site and working time lost today will have an adverse affect on the quality and quantity of useful information we can get from the site this weekend.