27 Jul 2012
Cedars Park Orangery Update
---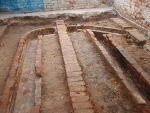 The area adjacent to the Victorian orangery excavated by MOLA and EAS, has now been made structurally safe and the floor excavated by MOLA.
An intact brick built under floor heating system has been unexpectedly revealed. The "drain" excavated by EAS in the main orangery was in fact part of this system.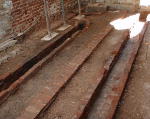 This latter-day hypocaust, which would have kept exotic plants warm in winter, indicates an earlier start date for the orangery, extending further west than its Victorian phase.
English Heritage and Broxbourne Council must now decide the fate of this unusual, if not rare feature, in the context of developing this area as the new park cafe.