19 Jul 2012
Festival of British Archaeology, Forty Hall, Day 3
---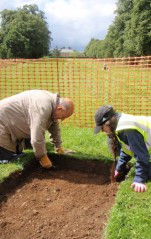 Another slightly puzzling but nevertheless interesting day today. We opened another quick-fire trench just to the east of the wall we uncovered yesterday, expecting to find it continuing east, but instead found another nondescript pebble and rubble surface.
This, combined with the lack of wall in the first trench we opened, paints a confusing picture of the building we are now certain exists here. These apparent gaps may be explained by the building having a more irregular plan than we thought, for instance if it was L shaped rather than rectangular, or there may yet be a more subtle explanation.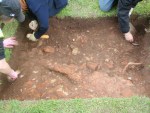 At the far east end of the building, we have opened a trench on what ought to have been its north-east corner. The archaeology in this trench is by far the most complex we have encountered this week, already revealing palace demolition material, a mortared floor cut by a circular pit, and no less than three potential walls, only one of which lies on an anticipated alignment! Due to its complexity, this will become the focus for our weekend dig and will be enlarged and explored further tomorrow. Unlike the other trenches, we have permission to fully excavate here to the full depth of the archaeology and so hopefully we will be able to get a better picture as to the layout and function of the building.