15 Jul 2012
Festival of British Archaeology, Cedars Park, Day 2
---

We had a much more productive day today, with fine weather and a large number of visitors, who we were able to show some interesting archaeology and several splendid finds, including several large fragments of a delftware charger or bowl beautifully hand decorated with birds and flowers. It has been provisionally dated to the 18th century, but will be cleaned and drawn and properly identified during post-excavation work.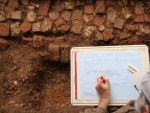 Unfortunately, what with the bad weather yesterday, we did not have time today to reveal the drain (yesterday's putative structure turned out to be just loose rubble), but may have identified the cut in which it was built. We did have time to do more work on the palace perimeter wall which has called into question our earlier interpretation that it was an early phase palace wall. The carved stone that we discovered yesterday was in fact part of the wall foundation, and when lifted was found to be part of a window mullion -- a dividing column in a large ornate window. This is almost certainly from the palace and must therefore have been recycled when the wall was built, meaning the wall must date to a much later or even post-palace phase.
The implications of this year's work will of course be thoroughly worked out in post-excavation and will be published in an EAS report in due course. A summary of our findings will eventually be published in the society news bulletin.