14 Jul 2012
Festival of British Archaeology, Cedars Park, Day 1
---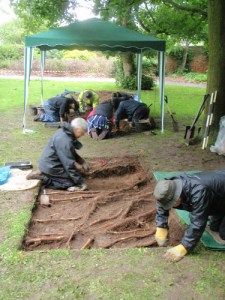 Things got off to a very damp start today; persistent rain made digging conditions difficult and drawing and surveying at times impossible.
We have opened a second trench just to the north of trench 1, opened yesterday which now seems unlikely to contain the drain - in any case the tree roots have made work in this trench impractical. Trench 2 has also produced signs of demolition rubble likely linked to the demolished palace perimeter wall, including an interesting carved block of stone which we will lift and study more closely tomorrow.
Unfortunately, trench 2 also failed to show signs of a drain cut until the eleventh hour today, when an extension at its north end revealed tantalizing signs of a brick structure heading in the right direction. Tomorrow we will properly excavate this area, although there are hints that it may have already been disturbed in the nineteenth century which may make dating the original drain construction very difficult.