About Us
History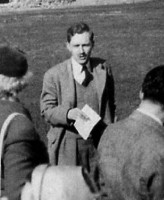 The Enfield Archaeological Society was founded in 1955 by a small group of archaeology students, studying with the Workers' Educational Association under the British Museum's Dr John Kent. Under Dr Kent's mentorship, the EAS rapidly grew, organising coach trips, public meetings & exhibitions, and a varied and popular lecture programme that continues to this day.
The Society undertook its first excavation in 1956 on the site of the iron-age hill fort in Bush Hill, now recognised as one of the Borough's most important historical sites and a Scheduled Ancient Monument. In the following years the EAS explored several sites in and around Enfield, and in 1963 the Society's work led to the rediscovery of the lost Tudor palace of Elsyng; thanks to the EAS now also a Scheduled Monument.
In 1974 the Society led the first of a series of important research and rescue digs in Bush Hill Park uncovering the Roman roadside settlement, now one of our principal long term research projects, and have been closely involved in monitoring the site ever since.
The EAS has been active in research and excavation in and around Enfield for many years and has produced a variety of published and unpublished material on subjects ranging from prehistory to the second world war.
Since 2004 we have staged annual digs on the site of Elsyng Tudor Palace, in Forty Hall, Enfield and more recently at the site of Theobalds Palace, in Cedars Park, Broxbourne, as part of the nation-wide Festival of Archaeology.